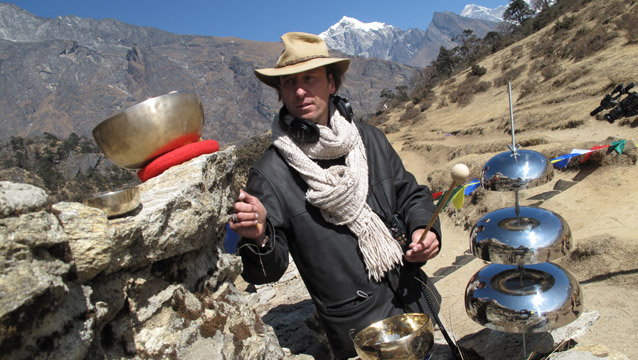 MUSICIAN OF NATURE Episode 3
Spiritual Paths (Népal)
Synopsis
The film takes us from the city's hubbub to the silence of the mountains. In Nepal, music always interferes with man's efforts to reach a superior dimension. Sounds allow him to enter a weightless world. Bells, chants and prayers rule the life of a community that spends most of its time celebrating complex
domestic rituals meant to make them keep up with eternity's pace. We follow Christian Holl as he records, among other sounds, footsteps in monasteries built high on mountain cliffs and
echoes of waterfalls.
Languages

Français

Format

16/9

Support location

Beta Num
Author

Vladimir Cagnolari & Bruno Victor-Pujebet

Technical team

camera : Bruno Victor-Pujebet; attented by Vincent Lefebvre
editing : Valentin Baillet
sound :Christian Holl, Vincent Lefebvre

Cast

Sound and Music by Christian Holl
Narrated by Matthew Geczy