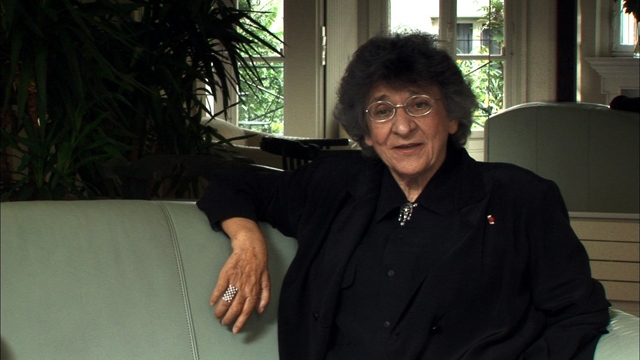 ANTOINETTE FOUQUE
Synopsis
Co-founder of the MLF (The French Women Liberation Movement) in 1968, psycho-analyst, creator of "éditions des femmes", member of european parliament, Antoinette Fouque has been involved in woman cause for the last 40 years. She supports theirs struggles in all the wolrd, from the female genital cutting, to abortion, beaten women, their expression's right or their right to create.
Half-corsican, half-italian, Antoinette Fouque was bornin 1936. Her mother was illiterate  and her father was an active campaigner of the "Front populaire". Her origins insufflated her the will to fight, the liking of social justice, the need to find her real place.
Antoinette Fouque brought to the women protest movement the particularity to combine action with thinking,Unconsciousness with History, Psycho-analysis with Politic. Her feminism does not advocates the sexes war, but it refers to a re-definition of the egality concept, concentrating on the difference.
Languages

VF

Format

16/9

Support location

Beta Num, HDcam
Author

Julie Bertucelli

Technical team

Editing : Josiane Zardoya
Camera : Muriel Coulin,Samuel Dravet, Alain Gaillard, Philippe Laurence
Sound : Pierre Armand, Stephan Bauer, Pierre Bertrand, François Brey, Renaud Péan, Nicolas Schlomoff

Cast

Music : Éditions Parigo