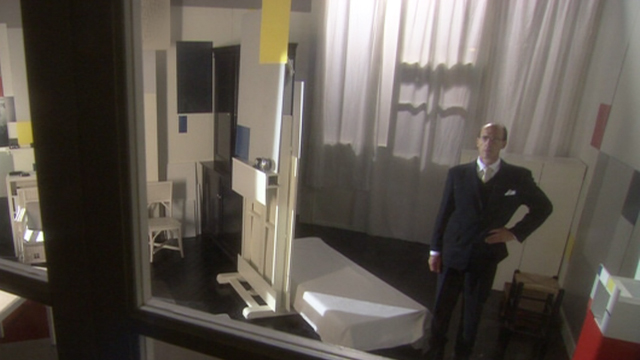 IN MONDRIAN'S STUDIO
Synopsis
The work of Dutch painter Piet Mondrian (1872-1944) marked a turning point in the history of modern painting.
Initially influenced by Cubism, Mondrian invented an original universal language of geometric shapes and primary colours in the early 1920s. Along with Kandinsky and Malevitch, he was one of the pioneers of pure abstraction, an innovative trend that strongly influenced 20th century art.
Filmed in the exact replica of his studio at 26 rue du Départ in Paris, this docu-fiction brings Mondrian back to life. It portrays the man who was passionate about dance and jazz and retraces his artistic path, from his first realist works to his mystical years, from the Stijl movement to his departure for New York, where he died in 1944.
This captivating film retraces the intellectual and human process that led Mondrian to geometric abstraction, the highly characteristic style that made him one of the major figures of the international artistic avant-guarde.
Languages

Français, anglais, néerlandais

Format

16/9

Support location

Beta Num
Author

Stéphan Lévy-Kuentz et François Lévy-Kuentz

Technical team

Camera : René Heijnen NSC

Cast

With
Bob Kauffmann (Piet Mondrian)
Distributor

ARTE Distribution

International sales

ARTE Distribution

DVD Distributor

ARTE Distribution

Festival

Selected at FIFA Montreal 2011
Selected at the festival Temps d'images - Prémio de Cinema para filmes sobre arte de Lisbonne - 2011