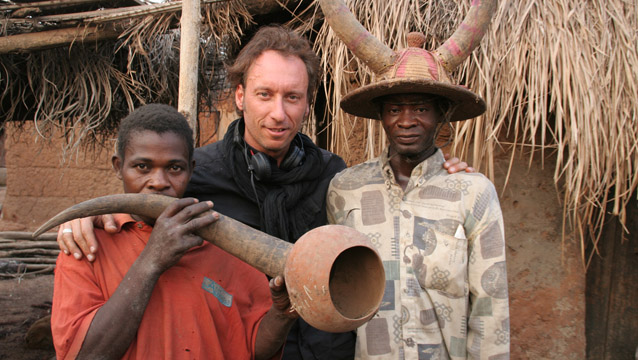 MUSICIAN OF NATURE Episode 2
In the Wake of the slaves (Bénin-Brésil)
Synopsis
Ouidah and Salvador de Bahia are twin cities in the dark history of slavery. Men were shipped away from the lakedside city in Africa and exchanged against rhum and tobacco on the new world?s first market. Yesterday?s bonds have turned into an astounding familiarity between both populations, linked by blood and history.
Christian Holl entraps sounds related to captivity, such as prison
bars and fire, recalling those lit by slaves during riots. Human labour hasn?t changed, despite the disappearance of whips, and our guide follows the tracks of those who still perform their ancestor?s voodoo rituals.
Languages

Français

Format

16/9

Support location

Beta Num
Author

Vladimir Cagnolari et Bruno Victor-Pujebet

Technical team

camera : Bruno Victor-Pujebet; attented by Vincent Lefebvre
editing : Valentin Baillet
sound :Christian Holl, Vincent Lefebvre

Cast

Sound and Music by Christian Holl
Narrated by Jean Marc Le Bars