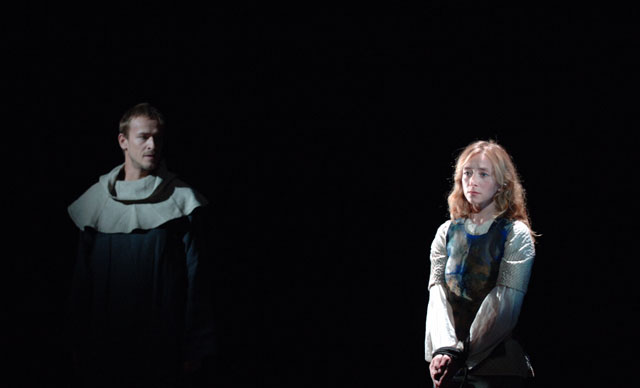 TO DISCOVER AN OPERA : JOAN OF ARC AT THE STAKE
Synopsis
Composed by Arthur Honegger based on the booklet of Paul Claudel, the oratorio "Jeanne au Bucher" has been recorded on july 2006 in the National Opera of Montpellier.
Don Kent invites us to discover the work, commented by Jean-Paul Scarpitta, the director, Alain Altinoglu, musical director and Sylvie Testud interprter of Jeanne.
Each one in his area, they enlighten for us the work genesis, to the crossing of theater and opera and of his symbolic.
The oratorio, acheved in 1945 in a devastated France, has taken a prophetic dimension :
extending the symbolic opposition between light and darkness which enliven the staging of Scarpitta, Don Kent helps us to understand this work definitely belonging to theater.
Languages

VF

Format

16/9

Support location

HDcam
Technical team

Editor : Arnaud PETITET

Cast

With the participation of Sylvie TESTUD, Eric RUF, Mélanie BOISVERT, Isabelle CALS, Marie-Nicole LEMIEUX
Distributor

CINETEVE
Metteur en scène : Jean Paul SCARPITTA
Direction Musicale : Alain ALTINOGLY