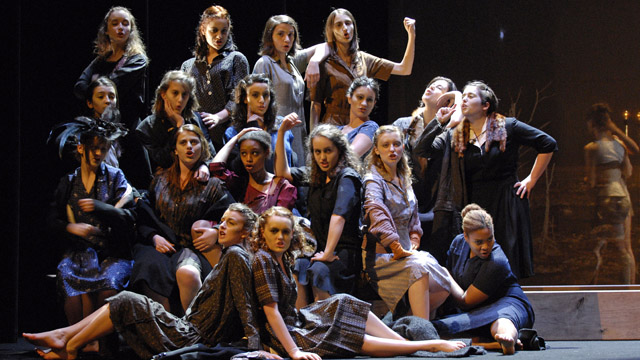 GERMAINE TILLION IN RAVENSBRUCK
Verfügbar in Hell
Synopsis
Verfügbar in Hell is one of the most astonishing, and probably the most humorous of texts ever to come out of the Nazi death camps. In October 1944, Germaine Tillion, ethnologist, deported to Ravensbrück a year before, began secretly to write an "operetta-revue." Her aim was to entertain her comrades, make them laugh by making fun of themselves and their living/survival conditions. By distancing their suffering through humor, she cast another light on the system crushing them and restored life to the one thing that could keep them going: hope. For the centenary of Tillion's birth in June 2007, the Théâtre du Châtelet premiered this vital and unusual work. Interweaving scenes from the production and the accounts of six deportee women resistance fighters, Tillion among them, Verfügbar in Hell describes how, in a camp where death was everywhere, prisoners resisted and survived through laughter, music and words.
Languages

Français, anglais

Format

16/9

Support location

Beta Num
Author

David Unger

Technical team

Camera : David Unger, Thomas Faverjon & David Nadjari
Sound : Sébastien Noiré
Editing : Guilhem Mahieu
Festival

Selected in competition FIPA 2009, category "Performing Arts"