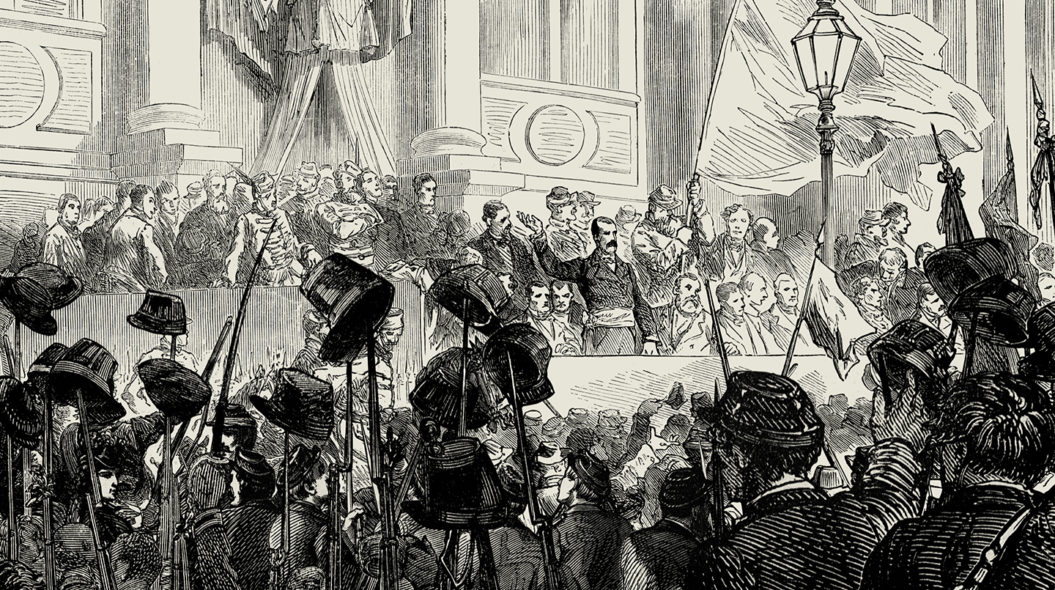 THE DAMNED OF THE PARIS COMMUNE
150TH ANNIVERSARY OF THE PARIS COMMUNE IN 2021
Synopsis
Paris, 1871: Immediately after suffering defeat at the hands of the Prussians, a wind of revolution blows over the French capital, sweeping away the last vestiges of the Second Empire. Impassioned supporters of the Social Republic take up arms against the government, which has fled to Versailles. An animated graphic documentary, The Damned of the Paris Commune draws us deep into Communard Paris through the stories of Victorine and other insurgents, all destined for tragic fates.
Languages

Francais

Format

16/9
Author

Raphaël MEYSSAN

Technical team

Chief animator : Frédéric BARBE
Animators : Matthias JAN, Alexis LASNE, Jean LEDIEU, Florent MORIN, Pierre MORIN, Mouloud OUSSID
Trainee animators: Bintou CAMARA, Morgane DUMAS, Gaëtan LUZY
Chief editor : Rémi SAGOT-DUVAUROUX
Editor : Colin LUCAS
Executive production : MIYU Productions : Emmanuel-Alain RAYNAL & Pierre BAUSSARON
Production Director : Tanguy OLIVIER

Chief Sound editor : Maylis COLLET
Voice recording : Léon ROUSSEAU & Olivier BEAUFRET
Set Director : Édouard MURCIER
Mixer : Mathieu NAPPEZ




Cast

Yolande MOREAU
Simon ABKARIAN

And the exceptional participation of
Mathieu AMALRIC, Fanny ARDANT
Charles BERLING, Sandrine BONNAIRE,
André DUSSOLLIER, Anouk GRINBERG,
Arthur H, Félix MOATI, François MOREL,
Denis PODALYDÈS, Member of the Comédie-Française
Michel VUILLERMOZ, Member of the Comédie-Française
Jacques WEBER
In homage to the rebels of the Commune

Music composed and directed by Yan VOLSY and Pierre CAILLET
Cinétévé Éditions/ Cristal Publishing




Distributor

CINETEVE SALES - Gorka GALLIER et Erik TOLLU g.gallier@cineteve.fr e.tollu@cineteve.fr

International sales

CINETEVE SALES - Gorka GALLIER et Erik TOLLU g.gallier@cineteve.fr e.tollu@cineteve.fr

Music edition

Co-édition
Script: with the participation of Marc HERPOUX
Based on the graphic novels of Raphaël MEYSSAN - Editions Delcourt
With the participation of TV5MONDE, HISTOIRE TV.
With the support of the Région Ile-de-France, the Région Nouvelle-Aquitaine, the Département de la Charente, the Pôle Image MAGELIS, the City of Paris, the Fondation Jean-Jaurès, the Procirep - society of producers of ANGOA.
And with the participation and support of the Centre National de la Cinématographie et de l'image Animée.