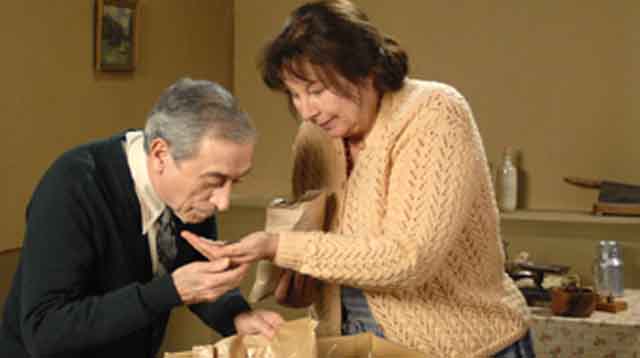 THE SECRET OF VILLA MARGUERITE
Synopsis
In 1937. Adèle and Etienne Grandclément are recently retired civil servants. Their dream comes true when they buy a detached house called "Villa Marguerite". In their street, they lead a peaceful life and dedicate themselves to their one passion: good food.
In 1940, the north-south boundary line narrowly places the Villa Marguerite within France's free zone. But Adèle and Etienne aren't spared the deprivation of war.
     And after eating a goose on November IIth, they are denounced and put into jail.
     Fortunately, Marie Fuller, who helps prisoners, manages to get them out. Now their close friend, she keeps delivering them products. Marie loves the Villa Marguerite so much that she even asks Adèle and Etienne to rent her a room, which they can hardly refuse.
     Then start the mysterious coming and goings of tongue-tied strangers and suitcases. And when Marie goes away, to help the needy she says, her friends' parade doesn't stop.
     Adèle and Etienne don't see anything wrong in it. They don't seem to worry when they discover gold bars and dollars between two patés. As long as they are fed… But after Etienne's death from overeating, things start to change with the Libération of France. However, blind friendship and gratitude are go deep.
Support location

Super 16 mm
Author

Jacques SANTAMARIA

Technical team

With Yolande MOREAU, Luis REGO,
Natacha LINDINGER, Gérard CHAILLOU, Michèle GARCIA
Music : Jean MUSY
Editions Cinétévé/Amplitudes
Distributor

AB international distribution
Based on the novel by: Jean-Jacques BROCHIER, Editions ALBIN MICHEL.