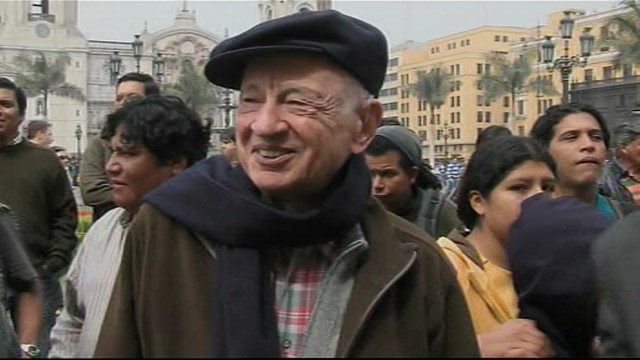 EDGAR MORIN
Synopsis
"I'am a searcher and when I say I don't want to be nammed as a sociologist it's because I can't see clearly where are the borders between sociologic, psychologic, economic, historic…"
Those first words of Edgar Morin fully define his reasoning : "link" the knowledges. Searcher "on his own", unclassificable, Edgar Morin is one of the most renowed of contemporary philosopher and he is internationally recognized.
From ¨Peru to Ménilmontant, from filmset  "Ce soir ou jamais"  to the ecological pact, from high school in Clichy-Sous-Bois to the Marguerite Duras's apartment, Edgar Morin brings back intense moments of his life, which nourrished the construction of his way of thinking.
Aged 9, his mother's death brings him doubt that will never leave him. In his teenagehood, his discovery of marxism will inspire all his works. His entrance in the "résistance", and his involment in communism were for him the discovery of fraternity and friendship and of the begining of a "resistance against human barbarism". As soon as the sixties, he re-inventes sociology, he shoots a movie  with Jean Rouch , become interested in youth of may 68.
His exitential discovery of america in 70's marks an important turn which will generate "Method, theory and complexity", the work  of his life, a titanic undertaking to understand better the man and rethink the world.
Still today, aged more than 86 years, Edgar Morin hasn't lost anything of his enthusiasm and involvement. Tireless researcher, he continues to travel all over the world for analyse phenomenons and for rally himself in multiple causes , against violence, humiliation which subsist oppressed people, or for the planet protection .
Languages

Français

Format

16/9

Support location

Beta Num
Author

Jeanne Mascolo de Filippis

Technical team

Editing : Laure-Alice Hervé
Camera : Etienne Carton de Grammont, Jean-Luc Cohen, Antoine Briot
Sound : Florent Ravalec

Cast

Original Music : Mathias Duplessy