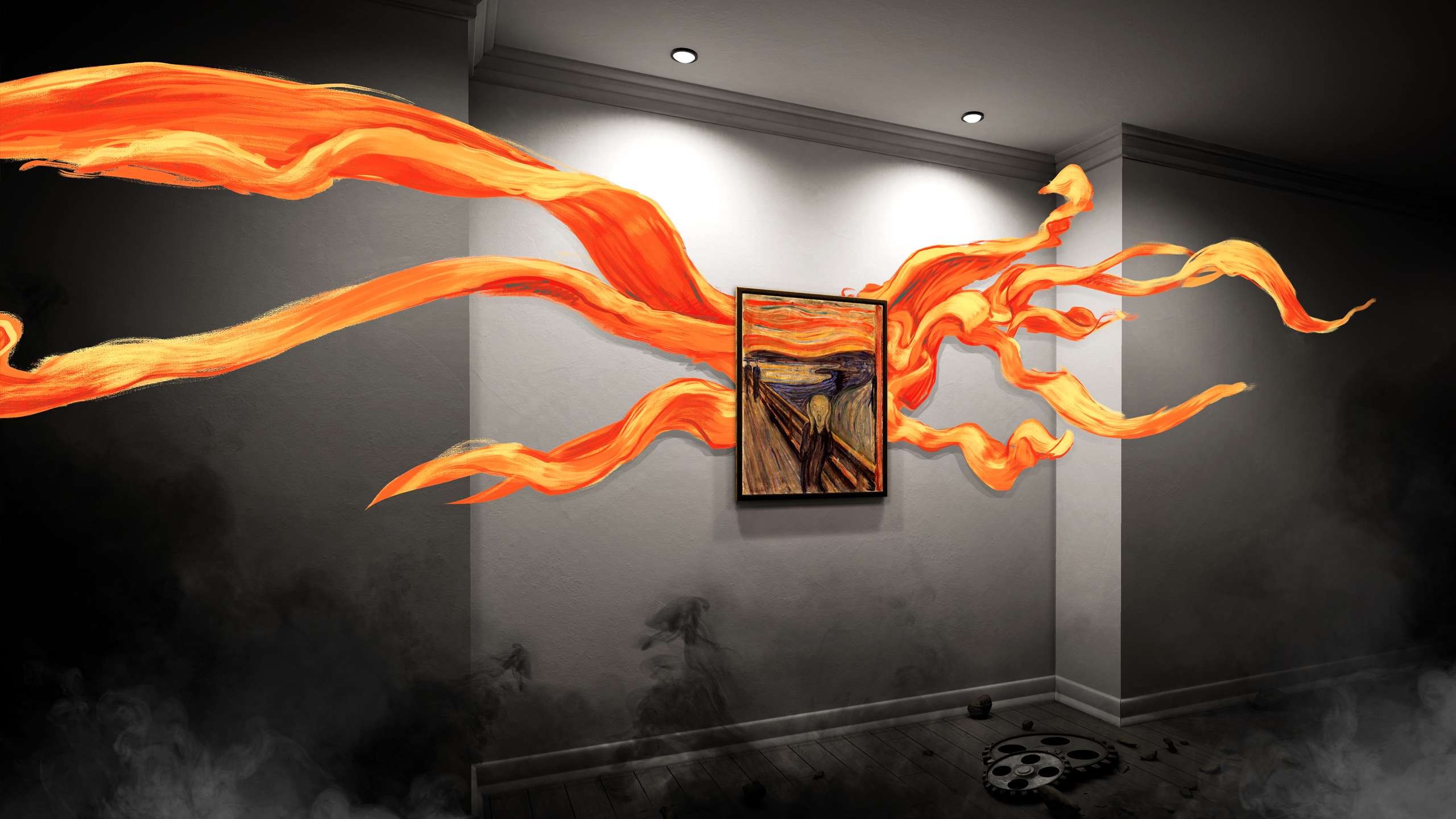 The Scream VR
Synopsis
Edvard Munch's The Scream is omnipresent. The famous face distorted by terror has fired our imaginations so greatly that it has become the universal symbol of dread. Are you ready to unleash the secrets of the most famous « scream » in art history?
Alone in an empty museum, you find yourself face to face with the painting. Do you dare touch it? Take care: demons and phantoms will spring from the canvas and drag you into the depths of the artist's tortured mind.
Based on the painting, The Scream VR carries the user away to explore the painter's obsessions and work. This interactive and sensory virtual-reality experience unfolds in three chapters, presenting a unique interpretation of the Expressionist masterpiece.
THE SCREAM VR in an interactive virtual reality experience in real-time 3D, compatible with controllers and Leap Motion. Available in English, French and German, THE SCREAM VR lasts around 15 minutes.
The interactive experience is available on VivePort, Steam, and as an installation.
The 360° film including 3D audio is available on the ARTE360 app.
Available on Steam and VivePort
Languages

French, English, German

Format

Interactive VR Experience - Real-time 3D - Roomscale
Author

Sandra Paugam & Charles Ayats

Technical team

With the voices of
Paul Hamy & Ann Christine

Sound design & Music:
Franck Weber

Concept artist:
DeeMoes

Development:
BackLight Studio

Sound Integration:
TAPE

Post-production for the 360° film:
Black Euphoria

Coproduction:
Cinétévé Expérience & ARTE France

in partnership with
BackLight Studio

With the support of
Centre National du Cinéma et de l'image animée

and the help from
Région Provence-Alpes-Côte d'Azur
Festival

Official Selection & Awards ⬇️

Virtuality XR Awards 2019 - Finalist
VR Days 2019 - Gold Halo Award 🏆
VR Awards 2019 - Finalist
360 Film Festival 2019 - Grand Prix VR 🏆
Ji.hlava 2019
Lovie Awards 2019 - Silver + People's 🏆
Anidox 2019 - Best Immersive Work 🏆
Tomorrow Stories 2019
FEFFS 2019
Venice VR - Best Of 2019 🏵
Annecy Animation Film Festival 2019
VRHAM! 2019
Séries Mania 2019
Laval Virtual 2019
Luxembourg City Film Festival 2019
Anima 2019 - Audience Award 🏆
Geneva International Film Festival 2018

Concept & Prototype Presentation ⬇️

Taipei International Film Festival 2018
Virtuality 2018
I Love Transmedia 2017